Digital Virgo, a leading specialist in mobile payment solutions worldwide, and global-scale video software provider Alpha Networks announce the launch of Digital Virgo's new premium streaming service. The latter is replacing Molotov Africa and is now deployed for several operators in Africa.
The new video service has been successfully launched on February 1st in Senegal, Ivory Coast, Guinea, Cameroun, Congo and Burkina Faso. The application is already available on Web and Android, including Chromecast.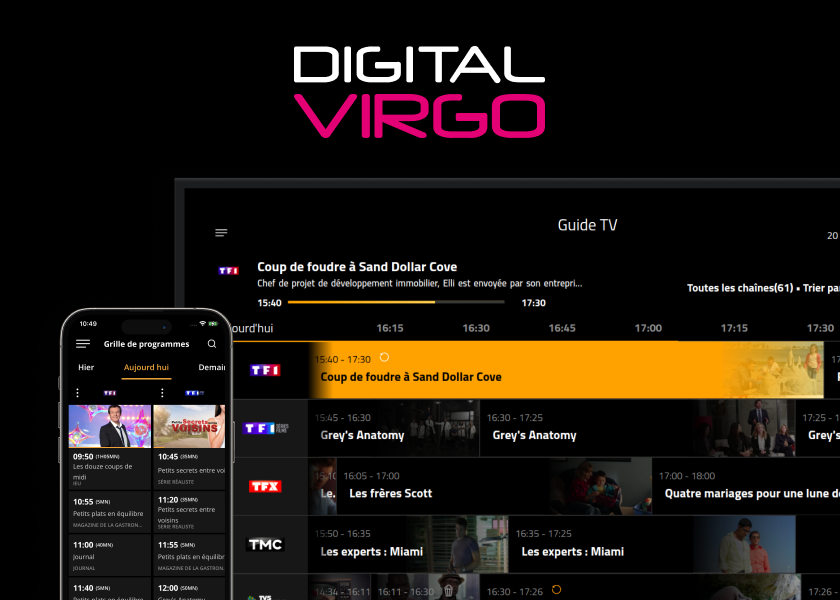 Digital Virgo has selected Alpha Networks for its proven experience in deploying OTT projects worldwide and advanced set of features aligned with the best-in-class platforms. Both companies complement each other by striving to deliver technical excellence to their partners and clients.
The end-to-end solution is powered by Alpha Networks' primary product Tucano video software and Gecko white-label application.
Thanks to its modularity, Tucano ensures an easy integration with Digital Virgo ecosystem, scalability and flexible deployments. When combined with Gecko front-end applications, it offers a strong multi-tenant video platform whose main advantages are a very short time-to-market, a fully manageable user-interface and enriched features.
Digital Virgo provides 140 partnerships worldwide with Carriers and deliver tailor-made solutions, that are adapted for their partners and clients' needs. They are happy to be partnering with Alpha Networks and to continue building on our success in Africa. Thanks to its knowledge of the African market, Digital Virgo will also play a significant role in the promotion and distribution of cloud video platforms powered by Alpha Networks to operators in the African Continent.
To scale-up to the next level its streaming offering to telcos in the Region, Digital Virgo recognises the importance to rely on a reputable partner.
We are enthusiastic to announce our collaboration with Alpha Networks for the deployment of our latest video service for the African Region. To do so, we necessitate to count on a reliable partner. Alpha Networks, with its remarkable portfolio of deployments worldwide, the quality of support offered and the commitment on the timeline, was definitely a best-in-class option.
Vincent Taradel, Chief Marketing Officer at Digital Virgo.
In addition, Alpha Networks' enriched roadmap guarantees the highest standards in the market, by ensuring a qualitative, premium viewing experience to subscribers.
The latest version of Gecko includes advanced features for continue watching, profile management, dynamic homepages management and CMS with custom content access per market and per device.
Digital Virgo has 15 years' expertise in billing solutions and a global footprint. We value its significant comprehension of the African market and expertise, and we know for certain that our complementary partnership has improved the quality of this new video service. I am also confident that the collaboration between Alpha Networks and Digital Virgo will encourage growth for both companies in the coming years.
Guillaume Devezeaux, CEO at Alpha Networks.
Prepare to share your content with top-notch products.
Take control of your content and share it with the world. Be part of the TV revolution today.
Talk to an expert